ZONA FRANKA


SE LLAMA SABROSO




changüí con flow




from Guantánamo, Cuba




feat Omara Portuando, Lina Zamora




feat Alex Lias, Frank Carmenate


click here for credits






ÓSKAR LY


RUMBALÚ




salsa, latin jazz




from Colombia & U.S.A.




feat Salvador Cuevas, Nino Segarra




feat Karl Perrazo, Richie Flores


click here for credits




KIKI VALERA


feat. Coco Freeman




VIVENCIAS EN CLAVE CUBANA




Cuban traditional son




2021 CUBADISCO® NOMINEE


click here for credits






ÁNGEL YOS


VAMO' HACERLO




Cuban timba & salsa




from France




2018 CUBADISCO® WINNER


click here for credits






ROBERT ARMAS y los CONQUISTADORES de la SALSA


LA TIMBA LA TRAIGO YO




Cuban timba & salsa




from Lima, Perú


click here for credits




JOSÉ ALBERTO "EL CANARIO"
& EL SEPTETO SANTIAGUERO


NO QUIERO LLANTO




TRIBUTO A LOS COMPADRES




2015 LATIN GRAMMY® WINNER


click here for credits






MISTER G


LOS ANIMALES




feat. Ben Gundersheimer




Bilingual children's music artist




2015 LATIN GRAMMY® WINNER


click here for credits





LOS AMAYA


VUELVEN...LOS AMAYA!




Universal Music Spain




rumba catalana, tropical


click here for credits







PACIFIC MAMBO ORCHESTRA


20 Piece Latin Jazz / Salsa




feat. Christian Tumalan (piano)




& Steffen Kuehn (trumpet)




2014 GRAMMY® WINNER


click here for credits






BRIAN ANDRES & the A.C.J.C.


SAN FRANCISCO




Smokin' West Coast Latin Jazz




from the Afro-Cuban Jazz Cartel


click here to see Brian's video






MARLOW ROSADO Y LA RIQUEÑA


RETRO

(all-star classic 70's salsa)




Bobby Cruz, Ismael Miranda, Tony Vega




L.Texidor, Marlón Fernández., K. Ceballo




2013 GRAMMY® WINNER


click here for credits






RAÚL LARA Y SUS SONEROS


CUBANO SOY




tradicional Cuban son & rumba




2013 GRAMMY® NOMINEE


click here for credits



M.D. (MACHITO DIFERENTE)


The Project (Deluxe)




feat. Guanabanas & Yenziel y Mike

reggaeton, urban, tropical


click here for credits



FRANK VELÁSQUEZ


Sueño Americano




Los Ángeles, México, Honduras




banda, rancheras, música mexicana


click here for credits



HAVANA HEAVY HITTERS


Vestido de Blanco




feat. Michel Maza, Alexander Abreu

powerhouse all-star timba project


click here for credits



PER-OLOV KINDGREN


Distant Love




Bogotá born swedish composer




second solo album - classical guitar


click here for credits



BRAILY


Disco Duro




salsa con timba - tropical




contemporary cuban salsa pop


click here for credits
Michael Lazarus
- audio engineer / latin music specialist / artist consultant


michael [at] latinmusicmastering [dot] com





Engineer Member of the Grammy Awards® - Producers & Engineers Wing NARAS P&E Wing

Industry Affiliations:
ASCAP registered writer & publisher
BMI registered publisher
NAMM National Association of Music Merchants
NARAS & LARAS voting member of the Grammy Awards

Pro-bassist, Audiophile, Father, Husband, Boricua
Bachelor of Science in Electrical Engineering (Florida Atlantic University)
Bachelor of Music (University of Miami)
Allow me to introduce myself through my work. For mixing inquiries and estimates, please an uncompresssed, rough mix .wav or .aif file and a few vocal and/or main instrument tracks for me to verify the recording quality. For mastering inquiries and estimates, please an uncompresssed, clean final stereo mix .wav or .aif file and I will reply with a free analysis report for your review. Designed by Iain McNeill of IMP Audio, my calibrated mastering environment and attention to detail are the finishing touches your music deserves. While I am Latino / Hispanic and my company offers comprehensive Latin Music services, I work with all styles of music.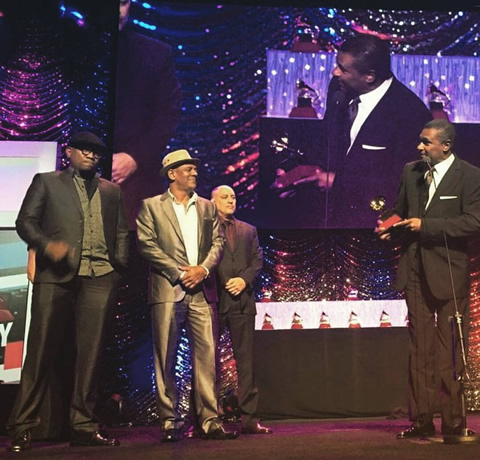 On stage at the 2015 Latin Grammys® (Mandalay Bay Events Center in Las Vegas)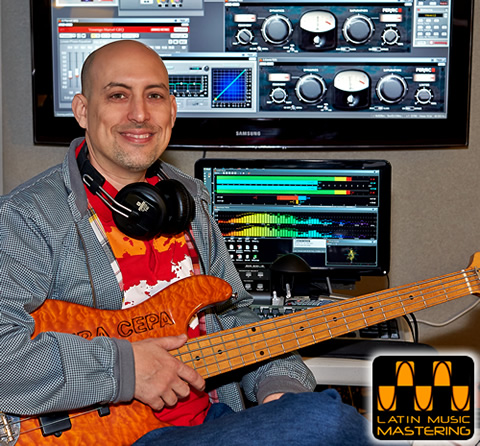 Audio Engineer / Artist Development Consultant / Bassist MICHAEL LAZARUS


Getting your mixes ready - a handy checklist to follow before you send your files.
1) Native audio recording format
I prefer to master .wav / .aif / .aiff files in the native audio format you recorded in. So if you recorded in 24bit - 48kHz then send it like that. If you used 24bit - 96kHz then send that. If you are sending the music and vocals separate, and the music is in a different but higher bit or sample rate, then upsample the vocal tracks. Do not downsample. Always send the highest resolution possible.
2) Check your vocal tracks
Did you solo and check all your vocal tracks for lip noise, breathing and other extraneous sounds? It's easy to fix all that without having to pay me to do it.
3) Leave some headroom
Check that your signals / waveform level isn't jacked up to the rails. It's always a good practice to leave AT LEAST 3dB of headroom for the mastering engineer. So the loudest part in your mix should peak at no more than -3db on your master bus. When you are bouncing your 2 track mix in Protools make sure your bounce doesn't have any overbearing compression or limitier plugins activated (be tasty). Just send a clean final mix.
4) Reference tracks are always a good idea
Sending tracks / music from artists that have the sound you are looking for, or have a similar vibe to your music, is a very efficient way to provide me with some direction.
5) Use consistent naming and timing for your stems
If you send the mixes broken out in stems, for example the music and the vocals on separate stereo tracks, then check your filenames so that they match and are clear to understand. Also verify that each stem track is CONSOLIDATED so that they start at exactly the same time when I drop it into my workstation. Make sure that all tracks start at 0 (zero) and that they line up properly in time.

What is mastering?
Mastering, a form of audio post-production, is the process of preparing and transferring recorded audio from a source containing the final mix to a data storage device (the master) -- the source from which all copies will be pressed, duplicated or replicated.

Measurements are completed to determine the current state of the mix so that, typically, the mastering engineer can apply shine, polish, punch, depth and definition to the stereo image and overall clarity to the track. Corrective equalization and dynamic enhancement may also be applied in order to improve upon sound translation on ALL playback systems (very important). While these are subjective terms, the art of the process involves critical listening in order to make objective and scientific decisions about the sound quality. Therefore it can not be successfully achieved without the presence of a mastering engineer (an actual human being).

The mastering process continues to resist automation. There are software tools available to facilitate this but results still depend upon the accuracy of speaker monitors, and also critical, completing the work in an acoustically calibrated environment. If the process takes place in an environment that is NOT acoustically calibrated, then the music will sound differently in different environments and rooms. That's just physics.