MONTUNO SWING

La Renta de Tula




directed by Christian Tumalan




San Francisco's classic salsa band






SONEROS ALL STARS

Janne Bogdan


La Habana Tiene Su Meneo


tremenda timba de europa






MICHAEL CHACÓN

Quizás




spain based cuban singer




high energy tropical latin pop






LULO PÉREZ

Si Tu Odio Es Amor




7 time grammy award winner




mexican ranchera track






CALLE REAL

Somos Familia




tight timba from Sweden




promo master track




PALOMA MARQUEZ &
VICTORIA DEL ROSAL

Déjame Sola




mexican soap opera stars go pop




dance club track






IMÁGENES CAIDAS

Subconciente




boricua alternative rock




latin pop-rock track






PROYECTO SONIDOS DE JÚBILO


Toda Gloria A Tí Señor




album feat. Rosendo Díaz "El Gallo"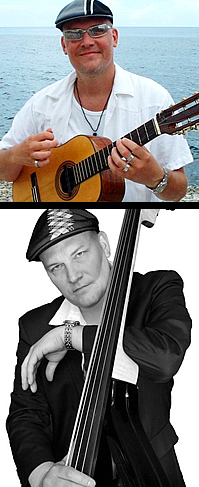 Spotlight on tresero, bassist & engineer
JANNE BOGDAN of Soneros Records

Soneros All Stars is not so much an orchestra as a concept: to bring together first-line Cuban musicians and create quality recordings of Cuban music genres. It was established as a company in 2001 by Swedish musician Jan "Yanesito" Miklas Bogdan, but it was not until the 2004 recording of the CD ¡Dime Nagüe! when Yanesito began his collaboration with the who's who of Cuban music that Soneros All Stars was truly born.

Janne's latest single "La Habana Tiene Su Meneo" features yet again a true line-up of Cuba's hottest singers and musicians, including singer Lésmer Solensar and percusionist Calixto Oviedo. Full credits here. Yanesito began with a fascination for traditional music such as son, boleros, danzón and changüí, the type of music that caught the attention of the world when a group of "old men in hats" exploded on the scene with the Buena Vista Social Club CD and movie. Next he moved to a modern changüí, very much a contemporary Cuban dance style. And most recently he chose to collaborate with Pupy Pedroso, one of the great Cuban musicians of modern times who has been on the leading edge of contemporary dance music since the 1960s playing modern changüí, songo, timba and eventually developing merensongo with percussion legend Changuito.
Artist Spotlight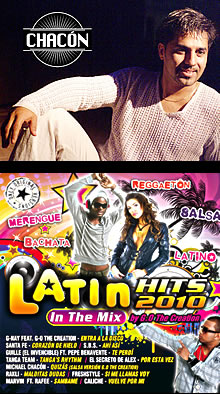 Spotlight on singer MICHAEL CHACÓN
of Music Art Management S.L.

Born in Havana, Cuba, Michael arrived in Spain in frint of the "Habana Club Band", which sold 350,000 copies of its record due to the hit song "El venao". In 1996 he lanches his first solo album "La isal del sol" on the Vale Music label. His second release is driven by the hit single "La Banana" and tours Italy. Shortly after he receives a quadruple platinum record for "Caribe 2000". Currently a producer and owner at his company Music Art Management, Michael oversees various Latin music compilations for the European market. Stay tuned for more releases from composer & singer Michael Chacón.

I had the pleasure of mastering his latest single "Quizás", also known as "Bella". This lively dance composition features Michael singing over various latin rhythms, from an accordion infused verse to a gypsy chorus to a reggaeton rap breakdown. The final chorus has great riffing between the lead trumpet and Michael's vocal improvisations. Its one of the cover tracks for the new Latin Hits 2010 (In The Mix) Compilation CD.